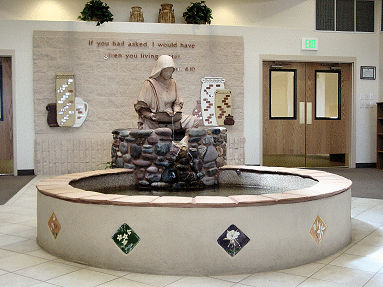 We have extended information about the following Sacraments at Santa Catalina Church. Please see individual pages by clicking on the highlighted sacrament below.
SACRAMENT OF BAPTISM: Prior to your child receiving the sacrament of baptism, PARENTS are to call Ginny Pergantis (English) or Maria Luisa De La Riva (Spanish) to make the necessary baptismal arrangements. Parents are to be parishioners. Parents and godparents are required to take a baptismal preparation class.
Contact:
Ginny Pergantis
520.825.9611 (ext.105)
liturgy@santacatalinaparish.org
SACRAMENT OF MARRIAGE: Couples who are planning to receive the Sacrament of Marriage are to make an appointment with the pastor at least eight months prior to their proposed wedding date. Please do not make any social arrangements until you have consulted with the pastor. Some couples require more time for preparation than others. Either the bride or the groom must be a parishioner for a minimum of six months prior to beginning marriage preparation. Normally, a six to eight month preparation period is required. There are other requirements that will be discussed at the initial interview with the pastor.
Contact:
Kim Seales
520.825.9611 (ext.103)
office@santacatalinaparish.org
SACRAMENT OF ANOINTING AND PASTORAL CARE OF THE SICK: If you are homebound or a resident of assisted living, planning to have surgery or anticipate a hospital stay, please call the parish office and ask for Judy Rossman, C.A.R.E. Ministry Director, to arrange for the Sacrament of Anointing and Pastoral Care of the Sick. The sacrament is also offered on the third Thursday of the month after the 9 a.m. Mass.
Contact:
Judy Rossman
520.825.9611 (ext.107)
careministry@santacatalinaparish.org