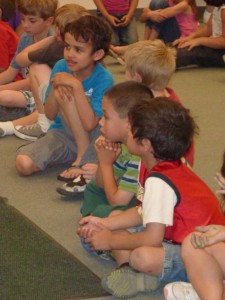 RE Registration begins in August.
Please stop by the Parish Office, Monday-Thursday, to register. Here are printable copies of the registration form for all ages.
Classes begin September 6 for Grades K-8.
Youth are divided into meaningfully sized groups, depending on the number of students in each grade level. Classes have a teacher, and as often as possible, an assistant.
Grades K-5: Religious Education classes for Elementary school students meet on Wednesdays 4:00-5:30 PM.
Grades 6-8: We use Life Teen's middle school program, EDGE. It engages middle schoolers in their faith and provides ample social time to develop church community.
Grades 9-12: Please visit our Confirmation and LifeTeen pages for more information about our programs for high school students.
FAMILY MASS, Once a month at the 11AM Mass.
The "Do This in Memory" Family Mass is a pre-sacramental resource which gives parents, children and the parish community the opportunity to prepare for First Eucharist.
ALTAR SERVERS
If you would like to serve God and the Church as an Altar Server please fill out an Altar Server application. Everyone must attend all classes. Pick up an application in the parish office.
Contact: Carol Padilla at 825-9611, x107