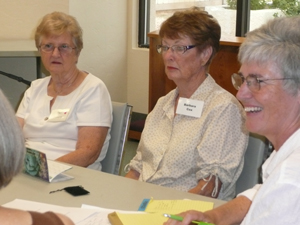 Contact:
Linda Ryan
CARE Ministry Director
520-825-9611, x104
careministry@santacatalinaparish.org
CARE Ministers are available to visit those who are not able to come to Church. If you, or someone you know is ill, in the hospital, homebound, elderly, etc., and in need of a visit, please call Judy Rossman to arrange for a minister to come on a
one-time or a regular basis.
If you are interested in being a part of the CARE Ministry team, please contact us to get your name on the list for the next TRAINING course. CARE Ministers are required to be fingerprinted and to undergo a background check as a result of our new Diocesan policies to protect children and the elderly.
MARTHA'S KITCHEN is also part of our CARE Ministry. It is a wonderful group of women who offer their services to the ministry by providing luncheons following funeral services. They are open to volunteers.
STEPHEN MINISTRY, also part of our CARE Ministry consists of men and women who meet individually to support those who are going through those who are going through a difficult time at least once a week to listen and pray with them.
For any of these CARE Ministry services or to volunteer please contact Judy in CARE Ministry.
Click on the images below to preview a larger version of the brochure.