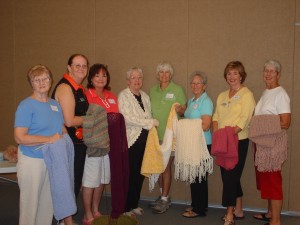 Contacts:
Linda Ryan
CARE Ministry Director
520-825-9611, x104
Pat O'Brien
520-818-3330
The Shawl Ministry of Santa Catalina Parish was started in November 2007 with four women who were willing to make shawls for those who needed comforting. Our group has grown to about 30 members but our ministry remains the same. We knit or crochet the shawls which are filled with prayers from our hearts for the recipients.
Join our monthly gatherings where we exchange stories, help with knitting or crocheting problems, and provide yarn for new shawls to be made. We welcome anyone who is interested in knitting or crocheting. If you are new to the craft, we have members who will be willing to help you get started. The shawls are a very simple pattern which lends itself to prayerful knitting.
For more information contact either Judy or Bridget at the contact information listed above.
"Shawls … made for centuries universal and embracing, symbolic of an inclusive, unconditionally loving, God. They wrap, enfold, comfort, cover, give solace, mother, hug, shelter and beautify. Those who have received these shawls have been uplifted and affirmed, as if given wings to fly above their troubles…"
Written in 1998 by: Janet Bristow


Brochures are available in the Parish Office and in the church narthex or available by clicking on the images below.