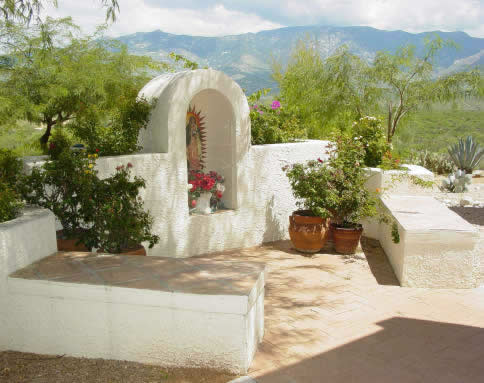 Contact:
Maria Luisa De La Riva
520.825.9611 (ext. 106)
hispanicministry@santacatalinaparish.org
Information on the Hispanic Ministry of Santa Catalina is available in English and in Spanish in the brochures available on the website, the narthex or the Pastoral Center office.
MISA
Celebración de la Misa en español a las 12:30 p.m. los Domingos.
ESTUDIO BIBLICO
Grupo de Oración
Cada Lunes a las 6:00 p.m. en el salon parroquial.
!Las esperamos y traiga su Biblia! !Es gratis, informal y divertido!
CLASE DE INGLES/ESPAÑOL
Cada Martes de 1:00 a 2:00 p.m.
en el salon parroquial.
BAUTISMOS
Clases de Bautismo en Español para los miembros de nuestra comunidad.
Se celebran el primer Sabado del mes y necesita llamar a la oficina del centro pastoral (825.9611) para fijar la fecha de la clase y la fecha de la celebración.
SERVIR

Si usted esta interesado en servir en el ministerio Hispano, o la Misa en español,
con mucho gusto se le dará un entrenamiento y entendimiento de la importancia de ser ministro y servidor en su parroquia.
Este ministerio siempre hay la disponibilidad de ayudar a traducir a las personas que no hablan Ingles, tanto como en el programa de San Vicente de Paul, como en los otros ministerios de la Parroquia o alguna otra organización.

SOCIEDAD GUADALUPANA
Como miembros de la Sociedad de Nuestra Señora de Guadalupe de Santa Catalina, honramos a nuestra querida Virgen de Guadalupe, todos los viernes a las 7:30 a.m. rezando el Rosario bilingue aquí en la Iglesia, toda la comunidad es bienvenida, tenemos nuestra junta el primer viernes del mes. En diciembre celebramos la novena a Nuestra Señora de Guadalupe y tambien el dí­a 12 de diciembre una Misa especial con Mariachi se ofrecerá, donde se da la bienvenida a nuevos miembros. Antes de la Navidad celebramos las posadas con toda la comunidad parroquial y tenemos una grant tamalada, piñatas, champurrado y dulces para los niños de la parroquia y de la educación religiosa.
MATACHINES DE SANTA CATALINA
Bajo el ministerio de Hispanic Ministry tenemos un grupo de danzantes Matachines que se reúnen con fines de honrar y venerar a Nuestra Señora de Guadalupe. El grupo de Santa Catalina esta bajo la dirección de la familia Gutierrez (marlyn4426@gmail.com o tel. 773.858.1968) que estan apoyados por un grupo de personas que se dedican al vestuario (Sewing Group) o sea el grupo de costura. Hay práctica cada mes para los danzantes y hay reunión mensual del grupo de costura. Favor de comunicarse a la oficina del centro pastoral para mas detalles y el horario mas reciente .
Para más detalles sobre los programas del Ministerio Hispano, favor de llamar al 825.9611 (extension 106).