Parish Border Immersion Trip to Agua Prieta
On Saturday, February 21, 25 of your fellow parishioners spent an enlightening and educational day viewing first hand life in the border town of Agua Prieta, Sonora and learning of the programs that various groups are providing to help alleviate the suffering that some of the town's residents experience on a daily basis.
The trip was planned and organized by Sister Jean Mariani and Social Awareness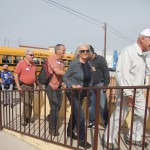 Ministry member, Joanne Weston.  The tour was led at the stops in Agua Prieta by Tim Heinan, the director of the Blessed Nuño Society.
The 25 Santa Catalina pilgrims boarded a bus at 7AM for their 3 hour ride to Douglas, AZ. We then walked across the border very quickly and were soon aboard a local school bus for the first of our 4 scheduled stops.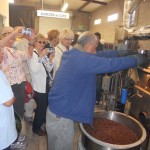 Our first stop was the roasting and shipping facility for Café Justo, the provider and partner for the monthly "Just Coffee" sales at our parish.  Adrian Gonzales, the customer relations manager, explained the mission of Café Justo which is to employ members of the coffee co-ops in 4 Mexican communities and provide more than Fair Trade prices for their organically grown coffee.  This helps local people to remain on their historic family lands and provide for their families in their local communities.  He was pleased to tell us that Santa Catalina's sales aregreat enough to allow one more family to join the co-op and stay in their hometown. We were also able to watch the roasting process and sample the coffee.
After a quick, reasonably priced, delicious lunch of local fare at Cordoba Restaurant, we boarded our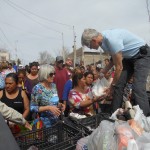 bus for a trip to one of the most poverty stricken areas of Agua Prieta.  The area is one of 3 that the Blessed Nuño Society goes to each Saturday to distribute food and assistance.  The children receive food at school each day but during the weekend they often go hungry.  Our group helped pass out bags of groceries to the adults while special treats were passed out to the children.  There were about 75 adults (mostly women) and another 100 children waiting for us to arrive.  Local volunteers maintained lists of those receiving food packs and the process was very organized and orderly.  The entire experience was quite overwhelming due to the poverty and living conditions of the residents but despite this there was a good feeling among the people of the area especially among the children. After our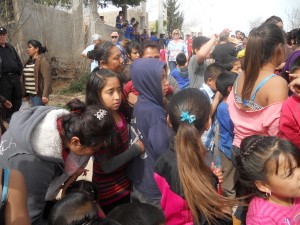 bus completed its backing up process on the long road amid applause from all of us, we headed out for the next stop.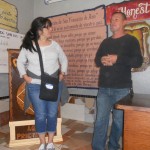 Our next stop was C.R.R.E.D.A., a drug and alcohol rehabilitation center (Centro de Rehabilatacion y Recuperation para Enfermos de Drogadiccion y Alcoholismo).  At the center we heard from its director, Raoul, himself a recovering addict.  Raoul explained his journey to C.R.R.E.D.A. and how they use prayer, education, legislative change and humanitarian aid to help addicts recover and heal.  The community of 80 residents is mostly adult men with some males as young as 12 and a few women.  The center receives no government help but relies on donations and work programs by the residents to maintain it.  While there we walked around the premises and were able to interact with the residents and learn of their progress out of addiction.  All in the entire stop at C.R.R.E.D.A. was a real eye-opener for us and we were very impressed with the facility and the dedication of the staff.
Our final stop of the day was at the orphanage built and administered by the Blessed Nuño Society and a sto
p most dear to our tour leader, Tim.  The orphanage is an impressive and secure facility on the outskirts of Agua Prieta and currently houses 24 children ranging in age from a few months to early teens.  When constructed several years ago the building was designed to meet all the code requirements of an Arizona orphanage.  The children there have been made orphans by acts of immorality, acts of violence or as a result of social injustice.  The children can be adopted and some have been into the United States.  I believe that we all found the children to be a joy and this was a great stop for our final visit of the day.  Before leaving Tim took us to the Chapel and asked us to pray for the children.  If you are interested you may send a donation to:
The Blessed Nuño Society PO Box 3484 Duluth, MN55803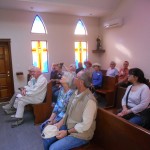 After a bus ride to the border and re-entry into the U.S., we boarded our bus in Douglas for our return trip home arriving after a meal stop at 9 PM tired but with a renewed commitment to reach out with God's help however and wherever we can to all of His children.  We hope to be able to share videos, pictures and talks with you as well as provide opportunities for some of you to make a similar visit to Agua Prieta and experience first hand what is being done by many church groups and others to alleviate some of the suffering of our neighbors to the south.
Al Crawford Social Awareness Ministry