Meet our Youth Minister: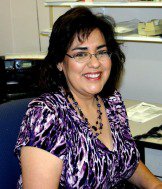 Lupita Parra
Youth Ministry Director
youthministry@santacatalinaparish.org
520.825.9611 (extension 108)
Lupita Parra is the new Youth Minister here at Santa Catalina. Lupita has always been an active member of the parishes she has attended. She volunteered as a Catechist and been a member of many church Choirs. She has also been on the church staff as the Jr. High Coordinator at St. Elizabeth Ann Seton for four years and at Most Holy Trinity as a Youth Minister for seven years. She enjoys working with the youth. Lupita believes that they need a safe, positive and accepting atmosphere; a place where they can come and feel welcomed. She creates a fun and comfortable environment in activities such as; retreats, day of reflection, lock-ins, variety show, programs and plays. She believes that the youth need to become involved and in order to do so they need to feel a sense of belonging. This opens them up to learn about their Spiritual faith. Lupita works closely with the church community and parents. She recruits and trains her volunteers. She also provides the parents of participating teen's workshops, retreats and gives them tools to communicate with their teen. Lupita is a native Tucsonan. She is a mother of two adult children and one grandson. She enjoys singing, going to the movies with family and friends and spending time with her grandson.
For more information on activities, meetings, or training for all teens please visit our
YM Upcoming Events
page. These activities are for all high school students and are not limited to Life Teen members only.